FAREWELL TO CN-RGA
---

While most recently serving Montréal CYUL daily, CN-RGA has been the flagship aircraft of Royal Air Maroc for more than 2 decades. At the helm of the company's Long haul offering, it has transported hundreds of thousands of passengers that enjoyed amazing comfort and space. This beautiful aicraft will be retired during the month of September. Reason why we are inviting you to participate into a joint event with the France Vatsim division to wish farewell to this fantastic Boeing 747. Let's enjoy a nice ATC coverage between Paris Orly LFPO and the Moroccan capital city Rabat GMME in a 2 and a half hours long flight in group. Bring your 747 whatever version (Default, PDMG, iFLY) and come be part of a historic group flight. Rabat Scenery is available as freeware here https://royalairmarocvirtual.com/sceneries/Morocco%202015.rar . Questions & queries can be adresses to mehdi@royalairmarocvirtual.com . Please confirm attendance via our FB Page https://www.facebook.com/groups/230269457128286/

EVENT DETAILS
Event Name: FAREWELL TO CN-RGA
Event Date: Friday, 07rd September 2018
Event Time: From 1900z to 2200z
Event Type: IFR
Countries: Morocco , France
Airports involved: LFPO and GMME
PILOT
Flight plan:
LFPO -> GMME : AGOPA UL167 ARTAX UN857 OSMOB DCT ARVID UT424 PPN
UN10 CJN UL27 BLN UN869 GALTO UB11 BARIS B11 TUSOR
All pilots are kindly requested to:
> Be prepared - have access to charts.
> Note the SID altitude restrictions and STAR speed restrictions.
> Be ready - you may be asked to enter holds, fly headings and speeds.
> Remember - Aviate, Navigate, Communicate.
> Maintain radio etiquette.
SCENERY
We suggests all pilots to use a freeware or a payware scenery as default sceneries in the flight simulators are out of date.
> GMME : https://royalairmarocvirtual.com/sceneries/Morocco%202015.rar
The Annual Hajj OPS 2018
---
VATSIM Saudi Arabia presents The Annual Hajj OPS
Once again it's that time of the year, where millions of pilgrims set their foot on two of the holiest cities in the world, Makkah and Madinah.
Therefore, Saudi Arabia vACC welcomes you to Jeddah and Madinah on the 10th of August 2018 | Friday to take part in this holy occasion to transport pilgrims from all around the world to Saudi Arabia.
Arrive at Madinah or Jeddah between 16H00z to 20H00z and expect our ATC to guide you along the way into our featured airports.
Hope to see you all there | Safe flight!
Connecting North Africa
---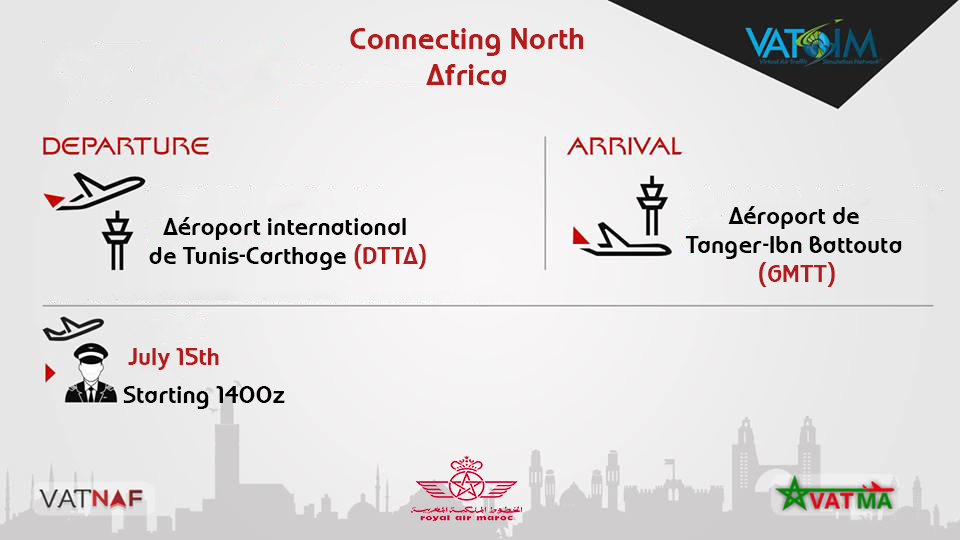 Connecting North Africa
Event Name: Connecting North Africa
Event Date: Saturday, 15th July 2018
Event Time: From 1400z to 1700z
Event Type: IFR/VFR

Countries: Morocco , Tunis
Airports involved: GMTT and DTTA
S2 CPT GMMN_TWR
---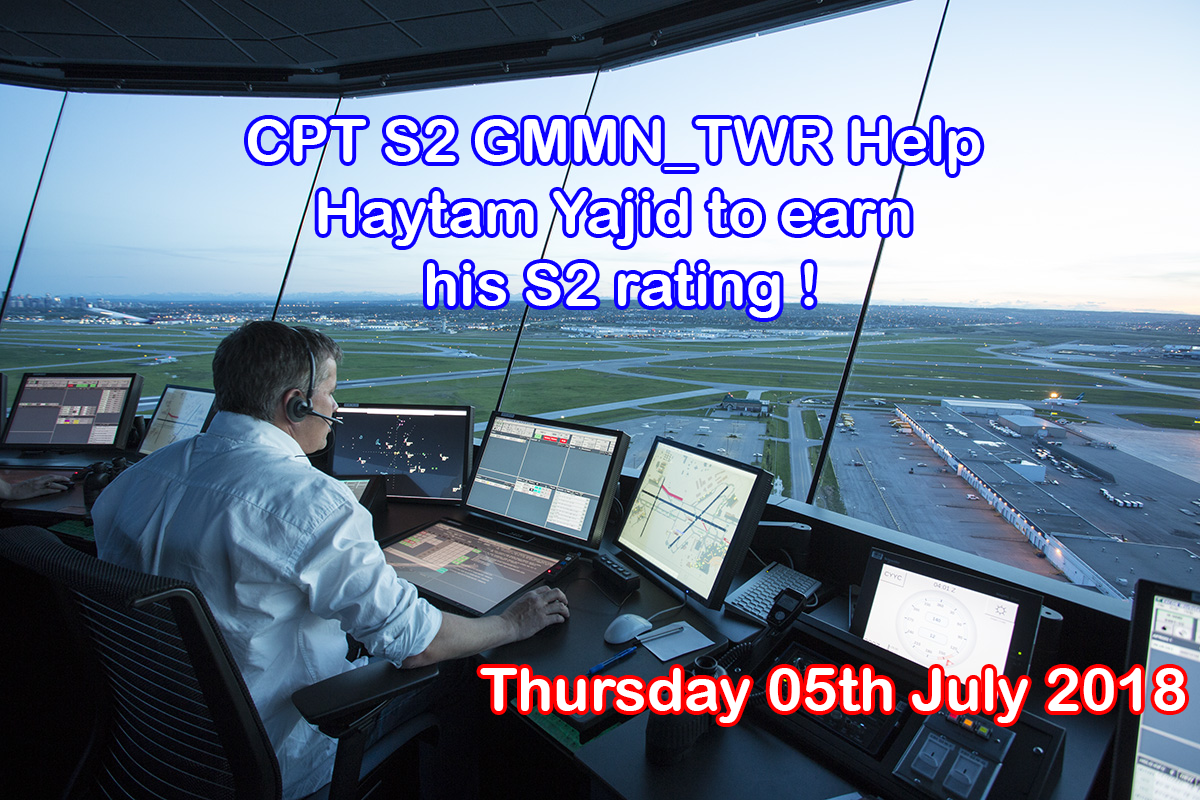 Thursday, July 5th between 1800 and 2000 UTC, 2 CPT

Haytam will be examined in Casablanca Mohamed V Airport (GMMN_TWR) position. Come and help Haytam to earn his S2 rating on VATSIM.

IFR/VFR Are welcome.

Yours,
The Annual Umrah OPS
---
Once again VATSIM SAUDI ARABIA brings you The Annual Umrah OPS!
Join us this Sunday at King Abdulaziz International Airport, Jeddah, Saudi Arabia from 17H00z to 20H00z by flying in or out of the featured airport to transport pilgrims to and from the holy sites in this Ramadan.
Fire up those big birds and light up the Pearl of Arabia as we unite with pilgrims from all around the world.
Hope to see you here!